The 2008 Bejijng Summer Olympics did not disappoint. From the opening ceremony to the closing ceremony it was amazing.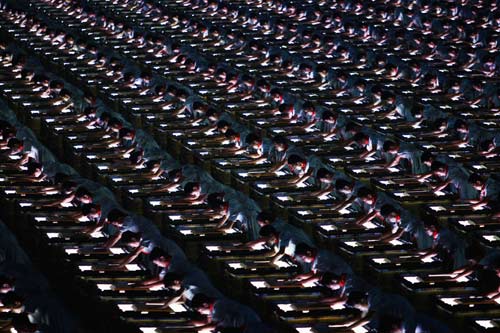 We thought the opening ceremony was incredible until we found out that some of the things we saw on TV were not real like the footprint fireworks & the 9 year old girl lip singing to a 7 year old girl singing off stage. All in all though China knows how to put on an unforgettable show.
Then there were the games, truly amazing! Here are some of our favorites memories from the games. The 8 golds that Micheal Phelps won.
The men's 4 x 100m medley rely that won gold and broke a world record, making the French eat their words.
Dara Torres
at age 41 winning silver and beating all of those young girls half her age.
Nastia Liukins
perfect performance giving her the all around gold for women's gymnastics.
Shawn Johnsons perfect balance beam routine that won her the gold. You can't forget men's gymnastics winning bronze after most had counted them out of the medals all together.
Beach volleyball was exciting
with Kerri Walsh and Misty May-Treanor
they know how to win the gold and
Phil Dalhausser and Todd Rogers
followed suit.
Women's and Men's indoor volleyball was great too. Both winning medals silver for the ladies and gold for the men. It was great to see the men triumph after all their couch went through.

Track and Field was a little disappointing for the team USA, but Jamaica sure did deliver.
How can you forget the fastest man,Usain Bolt running the 100m in 9.69 seconds winning the 1st gold medal for Jamaica in this race.
U.S. Men's Basketball Team
winning back gold and the U.S. Women's Basketball team winning for the 4th consecutive games. In the end USA took home the most medals (110) when the games were finished.
Of course there are those that did not medal at all and it was both sad and disappointing for them and us. But that's the way it has to be, not everyone can win. So we wait until 2012 to see who will be back and what new faces will be in London for a chance to show the world that they are the best at what they do.